Popular : prices, attractions, councils
Published: 11.4.2019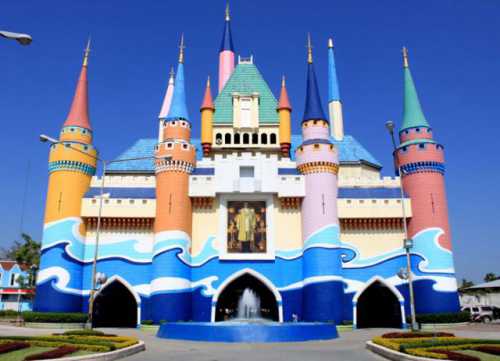 Ramayana aquapark in Pattaya - the Thailand's largest, second largest on the Asian continent also closes dozen of the world's largest. A highlight of aquapark the design and engineering idea began to place a complex of water entertainments on ruins of the mysterious city. Here both picturesque ruins, and ancient artifacts, rock drawings, unique natural and man-made objects. The natural lake became the central link of Ramayana in Pattaya, and around it entertainments were built. Tourists are attracted by diversity of the park, service, an originality and safety.
Cost of additional services:
The Ramayana aquapark is most of all intended for family holiday. In it 2 children's zones are located - for kids and children is more senior where there are interesting game designs, thematic figures and also avtomobilchik for driving. There is even a small attraktsionchik for six-month-old kids.
The day ticket can be used within half a year. Annual subscriptions - within 365 days daily.
The prices of an entrance to Ramayana aquapark depend on a package set, duration of use of services of an entertainment complex and some other criteria. The separate cost of tickets for every day, a package of visits for a year, payment of arbors, lockers, towels, is offers tickets + a buffet or tickets + a buffet + a transfer - they are subdivided into price categories for adults, children, elderly (pensioners).
The name of the park reminding of the famous Indian epos actually is a little connected with an idea, and serves as the beautiful attracting sign. At architecture of constructions, as envisioned by landscape designers, there are motives of the Thai, Khmer and Indian orientation that helps to be acquainted with the culture of Southeast Asia.
For safety and even more for confidence on some hills put on life jackets. It is simple to find all attractions in the territory of Ramayana in Pattaya by means of signs and the big card of arrangements. There are traditional pools with plank beds for quiet "parental" rest and suntan, a trampoline, services of training in surfing at a board in a separate spetsbasseyn with waves. In jacuzzi-bar-pool tables are established directly in water that it is very convenient in hot day.
In the territory of Ramayana aquapark in Pattaya water attractions in number of more than 2 tens were placed. In total water entertainments over 50. They are divided into two groups - family and extreme. Organizers of Ramayana assure that all of them are developed and made of hi-tech materials from the checked suppliers. Hills 240 m long are considered as the longest in the world.
Payment options online on the website are offered for residents and tourists.
Additional conveniences from Ramayana in Pattaya: massage, SPA with small fishes (fish-peeling), Wi-Fi, shop selling the accompanying goods, the floating market and also in the mode of non-feet contemplation of picturesque surrounding landscapes - green hills, the streaming falls and peculiar local natural reservoirs.
Popularity of Ramayana in Pattaya such is that the flow of tourists does not run low, and it is even necessary to stand to some attractions turn. According to visitors, this circumstance is quite explainable and incomparable with the derived pleasure.
The Ramayana aquapark in Thailand is famous for fascinating attractions. The following is considered as the most popular.
For example, usual tickets which include the whole day of stay in Ramayana in Pattaya (adults on all hills, children and elderly - except adult hills) will manage in:
The range of restaurant and kafeshny service with offers of world kitchen: from European to Asian and, in particular, Thai and others. In the menu also food for vegetarians, the separate kids menu is offered halal. The option of payments for food and drinks is put in an electronic rim bracelet of the client. The buffet for adults costs 299 (~ $9), children's - 199 (~ $6). A dish from fresh products, the salad bar, sauces, easy and nourishing soups, pizza, vegetable, meat, fish dishes, desserts, nuts, etc. is a lot of fruit. Alcoholic beverages are present at the menu.
Arbors can be reserved, use - throughout the day stay in Ramayana. At the order of an arbor for an extra charge in 200-300 (~ $6-9) VIP-service where separate enter is offered: entrance, shower, sofas, massage, drinks, water, rent of a left-luggage office of the most expensive type and obligatory towel.
The Ramayana aquapark in Pattaya contained about fifty entertaining constructions, "sea" and "river", part of them is developed on separate special projects and anywhere meets on all Asian part of the continent any more. Here the modern system of filtration and cleaning is involved that guarantees high water quality. Service and safety are ensured by 350 employees, a third from them the qualified rescuers.
The prices constantly change, discounts apply, tickets are implemented on the stock. All information on cost and payment methods can be learned on the page of the official site of aquapark: www.ramayanawaterpark.ru/select-tickets/. Sun beds and umbrellas free of charge for all.
For bigger access to package services of the park it is offered to enter Ramayana Club with exclusive bonus programs. It is possible to join online via the website.
Refer visitors at the age of 60+, pregnant women and people with additional requirements to category of elderly.
Prices of arbors:
It is necessary to add concerning the floating market. It is ancient Asian tradition - on the rivers to arrange the market. As through Ramayana in Pattaya the natural river flows, the floating market appeared and here. It enjoys popularity, on it it is possible to get souvenirs and the Thai food, and on coast to have a rest in a bungalow with straw roofs, beholding vicinities. Learn the PRICES or reserve any housing by means of this form
One more plus the large territory and the fact that hills are located not so compactly as at other aquaparks is considered. Many claim, what is so much more convenient.
The prices in Ramayana aquapark are divided depending on own criteria. Division into children and adults happens not on age, and on growth: