From our users: rest with children a samostoyatelnozerkalny labyrinth in Prague on the petrshinsky hill
Published: 21.11.2017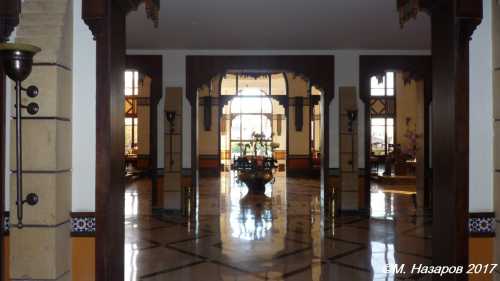 Further you get to the last room which appeared in the Mirror labyrinth in 1911. In it there are a lot of concave and convex mirrors which create the distorted images. Having seen itself in such unusual and ridiculous look, and you, and children enjoy to the full much.
The cost of visit of the Mirror labyrinth in Prague: Adult - 70 krondet up to 6 years, disabled people and journalists - 20 krondet from 6 to 15 years, students from 15 to 26 years, pensioners are more senior than 65 years - the 50th kronsemeyny ticket (2 adults and to 4 children) - 200 kroner
It is possible to get to "the kingdom of curve mirrors" and in the heart of the Czech Republic if to visit the Mirror labyrinth in Prague (Bludi? t? na Pet?? n?). There is it on the Petrshinsky hill, absolutely near a viewing tower which was constructed on inspiration from the Eiffel Tower seen by clubmen of the Czech tourists in Paris. And though the tower Petrshin a little than reminds D'Eiffel, and is not so popular among tourists, nevertheless it deserves attention as those great views which open to Prague from the observation deck are capable to take the breath away.
The mirror labyrinth in Prague works all the year round without days off. Operating time: October, March - on November 10-20C till February - on April 10-18C till September - an excursion 10-22prodolzhitelnost - 30 minutes.
On the Mirror labyrinth with surprise, admiration and the smekhomzerkalny labyrinth in Prague is one of those places where you and your children can receive emotional unloading, the sea of laughter and positive emotions. And though the Mirror labyrinth on the Petrshinsky hill small, those half of hour which are given you on its visit, will be remembered as one of the pleasant moments spent with children in Prague. Already in the first hall you get to the trap created thanks to arrangement of mirrors under certain corners so that it seems to you as if there is no exit at all, but only one accidental turn - and you are free.
Having got out of a trap, you receive in gratitude a magnificent picture - a historical diorama on which the memorable scene of fight of Czechs and Swedes on Karlovy Bridge in 1648 is represented. The image on the area of 80 square meters is created by joint efforts of brothers Adolf and Karl Libsherov, and they were helped with it by Voytekh Bartonka and Karl Shtapfer. The combination of relief and flat plans creates feeling of reality of the taking place events.
Do not plan visit of the Mirror labyrinth as a separate excursion, and combine it with walk on Petrshinsky gardens, visit of observatory of the astronomer Shtefanik and a surprising rosary and also enjoy views from the observation deck. On the Petrshinsky hill your children can drive on a pony or play enough with the ubiquitous proteins which got used to abundance of tourists much. And devote the rest of day to walk by motor ship across Vltava or joint shopping with children. You should not visit the Mirror labyrinth with kids to 3-year age, it will be interesting to children is more senior.
Returned from Prague 28.10.2012. The funicular does not work and, judging by abandonment degree, already not the first month. In the Mirror Labyrinth there is a broken mirror providently slightly covered with cardboard)))), but it is quite possible, broke recently and did not manage to replace.
How to reach to holmk to the Mirror labyrinth, a viewing tower and, actually, to all other sights of the Petrshinsky hill, it is easy and convenient to reach on the funicular which works till late evening therefore it is quite probable to go down on it and back even if you will lose count of time in local beauty. It is possible to reach the lower station of the funicular on public transport. From the Malostranska metro station (Malostransk) by any tram, except No. 18, to a stop of Ujezd (County).
Website of the Petrshinsky hill http://www.petrinska-rozhledna.cz
A mirror labyrinth which is considered one of the places visited and loved by tourists, especially today those who travel with children. The labyrinth consists of 31 usual mirrors and 14 distorted. In 1975 general reconstruction of an object was carried out.